Milo MANARA and Hugo PRATT: New space
On March 5, Huberty & Breyne inaugurates in Paris a new 150 m2 exhibition space dedicated to the arts of the Comic Strip, at 36 avenue Matignon in the 8th arrondissement of Paris. On the occasion of its opening, Huberty & Breyne brings together Milo Manara (born in 1945) and Hugo Pratt (1927-1995).
Between the two artists there was friendship, drawing, women and a taste for adventure, but no exhibition had so far brought them together. Alain Huberty and Marc Breyne have chosen to highlight the graphic universes of the two maestros as well as their joint collaboration through a relevant hanging made up of more than fifty works. The route offers a selection of original plates from the mythical albums co-written by Pratt and Manara: Un été Indien (1983) and El Gaucho (1995), as well as around thirty unpublished drawings and illustrations by Hugo Pratt, preserved so far in a private collection. On the occasion of this exhibition, Milo Manara signs large watercolors and canvases in tribute to the heroes and heroines imagined by his friend Hugo Pratt.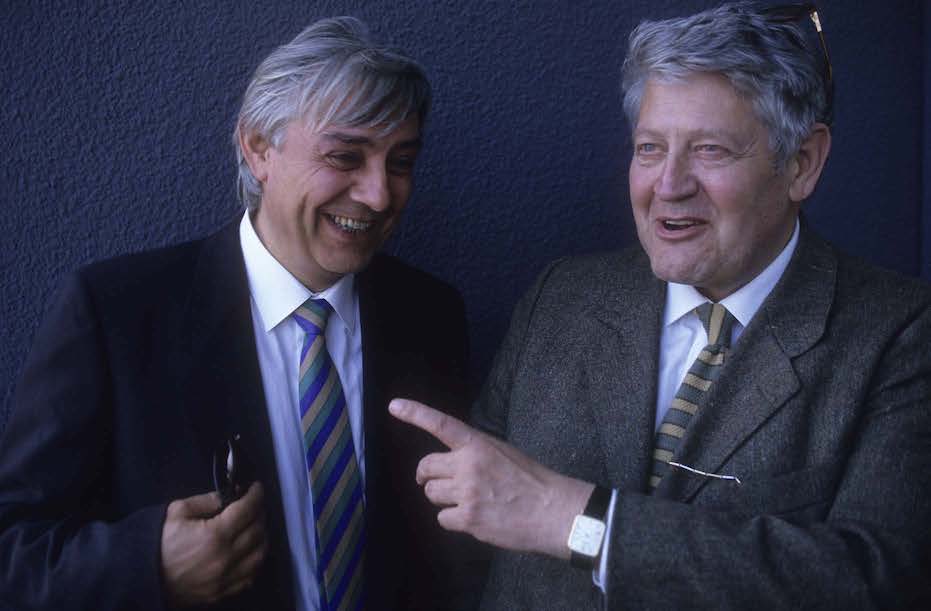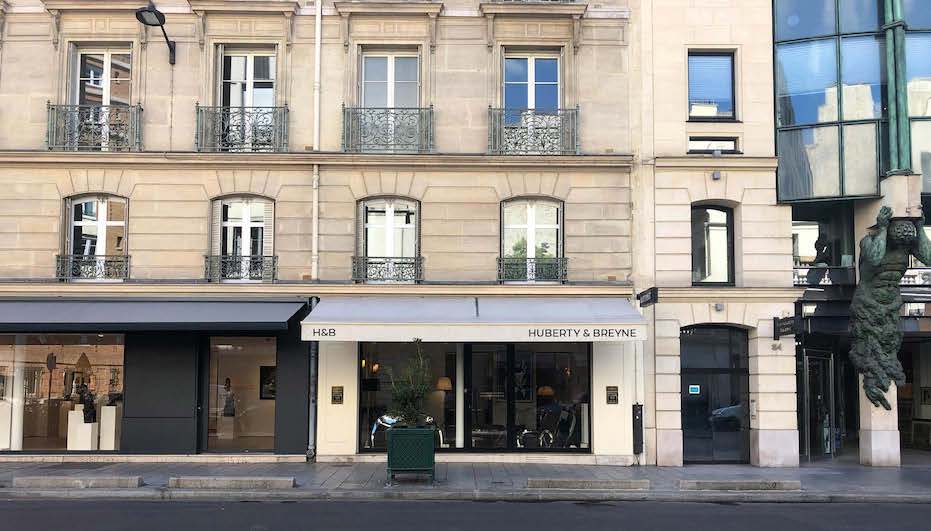 MILO MANARA AND HUGO PRATT INAUGURATE THE NEW HUBERTY & BREYNE GALLERY, AVENUE MATIGNON IN PARIS
Present in Brussels since 1994, Huberty & Breyne was established in 2008 in the 1st arrondissement of Paris, close to the Louvre Museum. For a decade, its programming has always had the ambition to promote the 9th art and to reflect the richness of this artistic medium. While France celebrates in 2020 the Bande Dessinée, Huberty & Breyne continues in this new place, the promotion and promotion of the Comic Strip.
"Over the past thirty years, our business and our projects have continued to evolve. After having inaugurated a new gallery of 1.000 m2
in Brussels in 2018, it seemed essential to us to be able to offer artists a espace which gives them greater visibility. Having a place in the 8th arrondissement of Paris, a stone's throw from auction houses and major contemporary art galleries is for us a new stage, including that of inscribing the Comic Strip in the landscape of contemporary art. "
Alain Huberty & Marc Breyne
An Indian Summer - Plate 59 - Strip 2 and 3
Indian ink on paper, 39,5 x 45,5 cm, 1987
An Indian summer Mixed media on paper, 37 x 26 cm
"At first it was just friendship. It was a long time after we started working together. […] He had scenarios he wanted to draw himself, but he realized that he didn't have time to do everything. So he offered me the first scenario, "An Indian Summer" in 1983; then the second "El Gaucho", in 1995. We intended to continue, but in 1995 he died. We were almost twenty years apart, but he was like a father or a brother to me. "
Milo Manara
MILO MANARA AND HUGO PRATT, A STORY OF FRIENDSHIP
Milo Manara meets Hugo Pratt in 1970 at the Comic Festival in Lucca, Italy. Then 25 years old, Manara publishes "fumetti" to finance his studiesarchitecture to Venise.
"Since we both lived in Venice, we spoke in our dialect. Hugo Pratt didn't have a driver's license, so I started by driving him. I accompanied him everywhere, from festival to festival, from Lisbon to Barcelona. He was a man of total freedom. Remembers Manara.
Free and impetuous, the character of Hugo Pratt fascinates Milo Manara, 18 years younger. He fascinated him to the point of creating his paper copy in his first comic book HP and Giuseppe Bergman published in 1980. The album, the first in a series, features Giuseppe, an anti-hero tired of the narrowness of his life and who desperately dreams of living free and unhindered. He then decides to give up everything to live the great Adventure. His first step took him to Venice in search of his adventure master, a certain HP. Behind these two initials, one can easily recognize that of friend and mentor Hugo Pratt. In the course of the four albums published between 1980 and 1998, HP served as a guide for Giuseppe and Hugo Pratt as master at Manara.
El Gaucho - Plate 40 Indian ink on paper, 62,5 x 48 cm, 1995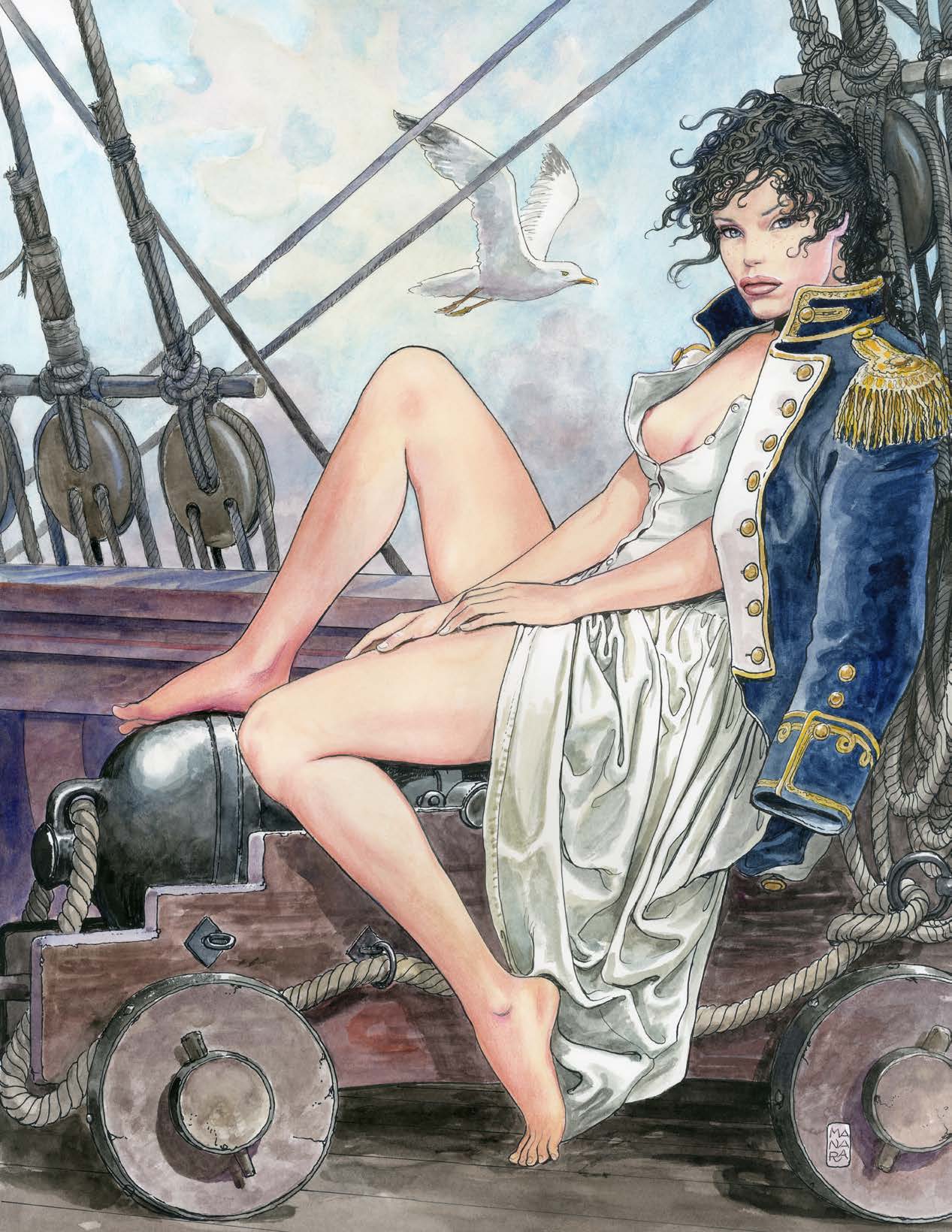 MANARA, PRATT AND WOMEN
From 1980 and the Adventures of Giuseppe Bergman, Manara made eroticism his trademark. Four years later, he signed his biggest success: the Déclic. In the midst of a sexual revolution, the album looks like a bomb. There follow The Perfume of the invisible (1986), Candide Camera (1990) and so many albums that raise the designer to the rank of master of eroticism. Dizzying curves, slender silhouettes, endless legs, each of Manara's models flirts with perfection. By turns femme fatale, sensitive, insolent, or seductive, her heroines shine with elegance and sensuality.
"Eroticism has always interested and fascinated me. […] My theory was based on the fact that if we understood sexuality in its recreational dimension, and no longer reproductive, it became decisive for the liberation of women but also of society in general. Eroticism has always had this aspect in my eyes. "
Hugo Pratt gives birth to the famous character of Corto Maltese in 1967. Over the twelve albums published between 1967 and 1991, the multiple facets of Corto's personality emerge: elusive mysterious adventurer, romantic and anarchist, libertarian and seductive, lucid and ironic. The women are the tutelary figures of the story and enamel each of the adventures of the Maltese sailor. They are independent, determined, often dangerous, always bewitching. They are called Pandora, Bouche Dorée, Soledad, Banshee, Changaï Li, Marina Seminova, or Venexiana. These heroines of paper are among the most remarkable in the history of the Comic Strip.
Pratt had a real fascination with the female figure. Inexhaustible source of inspiration, he crunches them on paper, independently of his Corto Maltese albums. Women dreamed of or really encountered, to young girls crossed on distant islands, passing by the emblematic figures of literature and cinema.
Milo MANARA | Hugo PRATT Exhibition
from Friday March 6 to Saturday April 4, 2020
36 avenue Matignon 75008 Paris