The art glass, Art Nouveau and Art Deco market with Heritage Auctions
Highlights include the rare glasses of American art and British cameo glasses
DALLAS, Texas (May 12, 2020) - Every spring for the past five years, Heritage has organized a vente aux enchères dedicated to art glass and related decorative arts, with the aim of satisfying all tastes and all budgets. The market has shown great vitality in recent years, with record prices being reached in some cases.
"We attribute this to the fact that we source everything from private collections, estates and museums," said Nick Dawes, senior vice president of special collections for Heritage Auctions, who heads sales from New York with Samantha Robinson at Dallas.

This spring's selection of Tiffany, Lalique & Art Glass, which includes Art Deco and Art Nouveau, to be held June 4 in Dallas, Texas, is more varied than ever. The sale opens with a large selection of Tiffany lamps, mostly from a New York property, with a lamp particularly pretty "Dragonfly" table lamp, followed by a "new" collection of Tiffany glasses from a doctor in New York, and a variety of American glasses, including a unique Steuben display vase, engraved by Sidney Waugh in 1937.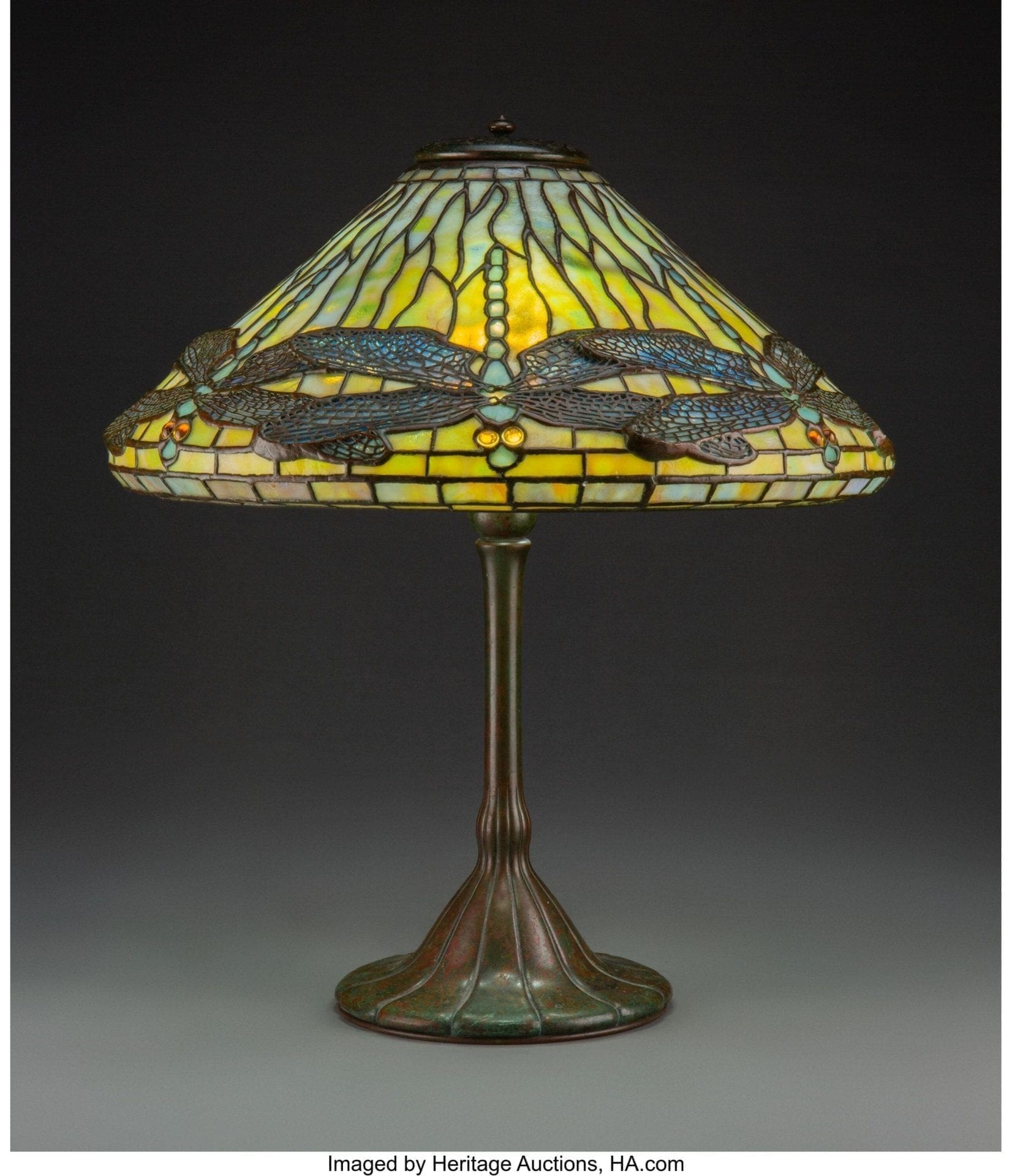 Some of the rarest and oldest American art glasses, including the exceptional plated Amberina and other New England and Mid-West glasses, come from the estate of Dr. Jerry N. Black of Buckhannon in West Virginia, who excelled in her professional field of ophthalmology and in her passionate search for rare art glass. The Black domain offers us 64 lots distributed over the entire sale, including the cover lot, an exceptional vase by George Woodall for Thomas Webb & Sons, and a large selection of English cameo glass. French glass includes unique artistic vases by Emile Gallé, a cameo by Daum and an impressive selection of works by Lalique, with an "Oranges" vase in mind, consigned by the family who originally owned it, and a large group of colorful vases. Among the rarities, three "Rapace" drinking glasses, one of which is not listed in the catalog raisonne.
A large group of modern Laliques includes the popular "Cactus" table, unique Lalique furniture from the 1990s and classic vases. Other modern works by Daum and Baccarat are accompanied by workshop glasses by Dale Chilhuly and a large selection of the Lotton family of glass artists.
Related decorative arts include Gallé furniture from a private collection in the Dallas area and from an excellent provenance, a fine set of works on paper by Alphonse Mucha and Louis Icart, Art Nouveau and Deco bronzes including one beautiful lamp "Loïe Fuller" by Raoul Larche, a collection of erotic bronzes from a collection of the west coast and various figurative lamps. It is worth noting a finely preserved collection of rare antique automobile mascots, which combine well with examples of Lalique glass, notably the classics "Victoire", "Cinq Chevaux" and "Vitesse". Art pottery is represented by a rare Fulper table lamp and a collection of British artistic objects from Bernard Moore, Moorcroft and Clarice Cliff.
As usual, the main session of this auction will take place live from Dallas, with the possibility of auctioning on the ground and by telephone. Session 2, which will include more than 150 lots, will be reserved for Internet auctions, with many lots estimated at less than $ 500. A catalog is available upon request (Nick Dawes can be contacted at NickD@HA.com and Samantha Robinson at SamanthaR@HA.com), subject to availability.
Heritage Auctions is the largest auction house of art and collectibles founded in the United States, and the largest auctioneer of collectibles in the world. Heritage has offices in New York, Dallas, Beverly Hills, San Francisco, Chicago, Palm Beach, London, Paris, Geneva, Amsterdam and Hong Kong.